This week is food allergy awareness week, and in honor of the annual event, I am going to dedicate my What I Ate Wednesday post to allergy-friendly meals from some of my favorite bloggers. It can be really difficult to find food that fit all of one's dietary restrictions, but it's such a big relief when you come across a recipe that needs minimal adjustments.
There are up to 15 million people in the United States alone with food allergies (source). We can do our part to help those with food allergies by becoming more knowledgeable in what constitutes allergies, how to ask questions about someone's allergies, and how to handle food in situations involving those with allergies.
Breakfast
Sweet Potato, Apple and Pancetta Hash — from Gutsy by Nature
Lunch
German Sweet Potato Salad — from AIP Lifestyle
Snack
Crispy Curried Turnip Chips — from The Clean Dish
Dinner
Our Favorite Vegetable Beef Chili — from Oatmeal with a Fork
Dessert
Ice Cream Bars — from Cook It Up Paleo
Doesn't that sound like the perfect day of food to you? Start off with a great egg-free breakfast hash and follow it up with a sweet potato salad jam-packed with bacon. Then munch on some crunchy, homemade vegetables. For dinner enjoy a big bowl of both grain and tomato-free chili, and round out the day with some cold and creamy homemade ice cream bars.
All of the recipes above are free of the top 8 food allergens: peanuts, eggs, milk, fish, shellfish, wheat, soy, tree nuts. These 8 foods account for 90% of all allergic reactions (source).
Thank you to Jenn for allowing me to link-up with WIAW again this week. Check out her blog for even more food inspiration!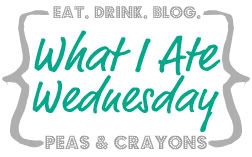 ————————————————————————————————————————-
So tomorrow I am heading down for the final details of my next internship. Last summer I was 3 1/2 hours north of home and this year I am about 2 1/2 hours south. I have to pass a final drug test and physical examination before being officially offered the job, but I can confidently say that I think I'm safe in those regards 😉 My main concern right now actually is my living arrangements. I was notified kind of late about the job and only had a week to find an apartment. Nothing is 100% yet, but I'm trying to work it all out come Monday when I start. Yikes. I'll update you more when things are concrete.
Goodbye for now and happy Wednesday!
———————————————————————————————————————–
Questions for you:
Have you ever had to move for a job before?
What is your favorite allergy-friendly meal?
Do you, or does someone you know, have food allergies?