Is it possible to hoard pictures of food? I pondered that question as I was scrolling through Amazon Prime's TV show selections tonight and stumbled upon "Hoarders." While I will never watch that show, it did get me thinking about this upcoming WIAW post. I panicked upon opening a draft when I realized that I hadn't done a lot of picture taking this past weekend and (goodness forbid) there was the possibility that I would have to "cheat" again with just a recipe post.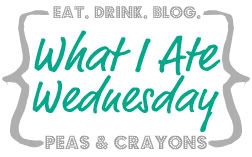 Then I laughed. Who was I kidding? Just two seconds on my phone and I could find tons of food pictures to share. I must confess- it is entirely possible that I could be a "food photo hoarder."
Sounds safe, doesn't it?
But deep down in the depths of my Samsung Galaxy S2 memory card, I know I have a problem. A problem that can only be solved by sharing a few of those billions of pictures. "Getting rid of the junk" if you will. Except I would not call these photos junk. That's just an allusion to what I can only assume is said about 100 times per episode on the real episodes of Hoarders.
Actually I have seen a few episodes. Unfortunately my grandma loves the show and when I was living at home and visited, Hoarders would frequently be blasting on her television screen. Most of the time the professional organizers didn't call the homeowner's belongings "junk" though.  If I were (hypothetically) an actual "food photo hoarder" I would slap you silly for suggesting that I delete all of my pictures. That would just be plain rude.
The next step in overcoming hoarding after admitting you have a problem, I can only presume is to actually get rid of some of the offending/overabundant items. Here we go….
Starting off we have the steakhouse leftovers from a family birthday outing two weekends ago.
Bread and butter. Basically the epitome of eat-out treats. How can you resist warm roll pictures? Well, really they are cold in this one, but just imagine them all warmed up in the oven and topped with the creamy, melted butter. Perfection.
Then we have the sweet potatoes. I had to order two because there weren't any sides that my stomach could handle. My question for you is: Is there such thing as a too sweet sweet potato? My thoughts are yes. These were sweet to the point of ridiculousness. Sure, they tasted fine, but their overabundance of sugar made me start thinking about GMOs and how farmers modify crops to be their "sweetest." Yep, that is what I pondered about during my dinner while the rest of my family debated about politics and sports. Frankenfood.
My next group of pictures are from my coconut flour brownie photoshoot on Saturday. I showed similar pictures a few weeks ago and promised to share the recipe soon. Then I lost the recipe and had to make them again. I think all of the measurements are exactly the same as they turned out basically identical. Half of the batch was gone by morning and my mom admitted to possibly eating one too many. There is no greater compliment. This time I promise… Recipe will be really coming soon! 🙂
I also have to throw in a picture of my dog. Just like I hoard pictures of food, my phone is chocked full of images of my pets.
On my drive home Friday I stopped by the grocery store to pick up some produce as I had heard word from my parents that we were seriously lacking in any Madison-friendly food. While shopping I stumbled into the foreign foods aisle while looking for dried seaweed and found some coconut milk! Now, many of you are probably thinking to yourselves that coconut milk is in all stores these days. True. But 99% of storebought coconut milk seems to come with added gums, preservatives, etc. I found cans with only two ingredients: coconut and water. BAM. I  let it sit in the fridge overnight and the next day put the hardened cream part in our food processor with some peppermint stevia drops and in seconds had a delicious coconut whipped cream. My next mission is to find canned coconut milk at the store that is BPA-free, although it appears that the only option right now is online.
On another grocery shopping trip with my parents on Sunday before I left, I spotted this post-it on a display of cookies. At first I laughed because honestly, it's funny. Then the more I thought about it, I kind of became peeved. If someone wants to eat a cookie, you shouldn't ridicule them. Maybe the mysterious post-it person was actually trying to be considerate, but it just seemed a little harsh. I would have preferred something like: "Instead of buying these cookies full of chemicals, try making some homemade cookies with REAL ingredients." Just a thought.
And my last picture is a little group of presents from my mom for my birthday. Have I mentioned before that I like pink? And anything cupcake-themed?
I suppose I should feel some relief after getting rid of these pictures from my phone. Too bad they only make up about one-billionth of my stockpile. I should probably dig in some more, deleting the blurry ones. No need to rush though. One step at a time. Progress is the name of the game.
Sincerely,
Your Friendly Food Photo Hoarder
——————————————————————————————————————————
Questions for you:
Do you hoard things? Photos? What?!
What is your favorite thing about eating out?
What are your thoughts on "Frankenfoods"?
If you were to put a post-it note on an item at the store, what would it be and why?