As you read this I will either be having something that my teacher calls an Accounting "party" tonight (whatever the heck that means…) or taking a Supply Chain Management exam where I will most likely walk out in tears.
I can work on preventing the second one by making this a quick post though, and using up the time that I have left to study hundreds of flash cards.
For WIAW you'll have to imagine a little bit of the food because I forgot to take pictures. And my family consumed quite a bit of Wendy's and KFC over the weekend, which you all really don't need to see. 😉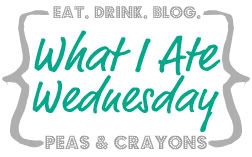 While I do not have pictures of their delicious-looking grilled chicken and KFC Double Chocolate Cake (really, I need to figure out a way to make a homemade version!), I do have two recipes for you that should be plenty of food porn for today.
First is just a quick oatmeal recipe. When I'm not making pancakes 99% of the time for breakfast, the other 1% is oatmeal (or maybe 0.5% because I do like making cinnamon rolls too…). Anyways, this oatmeal recipe is the perfect way to use up a ton of your hoarded bananas and to get in a lot of protein at breakfast! I like to mix in a few eggs to make this extra staying, but if you are vegan/allergic to eggs, feel free to leave them out and it will still taste just as amazing.
Easy, High-Protein Banana Oatmeal
2 servings – About 17 protein grams each
How to make: Heat 2 cups of water in a medium pot. Mix in 1 cup quick oatmeal and 2 tbsp chia seeds. Stir and cook for a few minutes until it starts to thicken. Then stir in a few tablespoons of natural sweetener (honey, coconut sugar, stevia, etc.), a splash of vanilla, and a dash of sea salt. Reduce heat to medium. Then cut in two ripe banana slices and let simmer for a few minutes. When the banana slices are soft, take a fork and whip them into the oatmeal. For extra protein, take the pot off the stove and quickly mix in two whole eggs. Return the pot to the stove and heat up for another minute. Divide between two bowls, top with more banana slices, and melted almond butter. Take a spoon and enjoy!
As I said before, I also really like making cinnamon rolls as you can tell from my coconut flour cinnamon rolls, apple chunk cinnamon rolls, peanut butter and carob cinnamon rolls, and microwave cinnamon rolls (almost all vegan!). I felt it was only fitting to try to re-create a cinnamon roll classic, which sadly, is no longer available in restaurants… Burger King's Cini-Minis!
Cini-Minis were a breakfast roadtrip staple for me as a kid. Whenever we went on a trip or vacation and had to leave early in the morning, we stopped at Burger King for a special breakfast of French toast sticks, super sugary orange juice, and cini-minis for dessert. These things were so decadent that we usually could only finish a few before passing the remaining up to my dad to inhale. My version is not quite as sickly sweet, and much higher in fiber. Also, as I can attest from watching my parents test these out, you can down quite a few of them before calling it quits.
Grain-Free Cini-Minis
Grain/Gluten/Wheat-Free, Dairy-Free, Paleo-Friendly
Makes 3 servings, 4 small rolls each plus icing
Dough ingredients:
1/3 cup coconut flour
½ cup almond flour
1/8 tsp sea salt
1 tsp baking soda (or 2 tsp baking powder)
2-3 tbsp granulated sweetener
½ tsp vanilla extract
1 tbsp coconut oil, melted (and slightly cooled to prevent cooking the egg)
2 large eggs (to make a vegan version, use this recipe instead and just make them smaller)
Filling ingredients:
1 tbsp coconut oil, melted
2 tbsp granulated sweetener
1 tbsp cinnamon
Icing ingredients:
1/2 cup powdered sweetener (Make your own by placing granulated sweetener into a coffee grinder. Baking stevia, coconut sugar, or cane sugar will all work)
Water or milk
Directions: 
1. Preheat oven to 350 degrees. Line a baking sheet with parchment paper.
2. In a medium-sized bowl measure and combine the coconut flour, almond flour, sea salt, baking soda and granulated sweetener. Then add the vanilla, coconut oil and eggs. Mix well and set aside to thicken for a few minutes. The dough should come together easily and be soft but not sticky. Add a little water if needed to bring the dough together, or add coconut flour if the dough is too wet.
3. Form the dough into a ball and place it on a new piece of parchment paper. Wet your fingers with water and press the dough into a large rectangle.
4. Spread the melted coconut oil onto the dough. Then sprinkle on the granulated sweetener and cinnamon (use more or less as needed to ensure it is fully covered).
5. Wet your fingers again and with the long side facing you, begin to tightly roll the dough. (This dough is very feeble because it is grain-free, so it will fall apart a lot as you roll. Just continue to wet your fingers and reform/press any broken parts together).
6. After you have your roll, cut it into 12 small pieces and place them on the parchment-covered baking sheet.
7. Bake for about 15 minutes or until golden brown. They should bounce back to the touch. Add more minutes if necessary.
8. To make the icing, simply combine the powdered sweetener with a teaspoon or so of water to start and add more as needed to get a thick icing.
Now, do you want even further proof that this exam week will be the death of me? Do you remember the first few paragraphs of this post? Ya… As I was walking out, one of my roommate's boyfriends asked me where I was going and I said "Accounting." He then became confused and I come to find out that I have all of my days messed up and my Macroeconomics exam is actually tomorrow and Accounting tomorrow night. So the crying over my Supply Chain exam is delayed another day!
And to catch you up, my doctor's appointment went alright this past weekend and I have some more news to share probably on a Thursday/Friday post if I have time in between studying and packing and cleaning.
Happy Wednesday and to all a good night!
——————————————————————————————————————–
Questions for you:
Do you ever get your days messed up?
What is your favorite breakfast food to make? To eat? Are they different?
Did your family have any road trip traditions growing up?