You know it's going to be a long week when you already start off Monday sleep-deprived. All last week I did really well with going to bed at a decent hour and being fully rested. Then Sunday night when I was working on a group project from home, my teammates were just not responding via e-mail like they needed to. Since our decisions were due at 7:00pm I had to be at my e-mail constantly checking for a response from them. In the end only one of them e-mailed me back. *Sigh* This is why I hate group work.
Nevertheless, the decisions were in on time (Just 8 more rounds to go. Yippee!…). But that left me still at home at 7:00pm with a few more things to pack. Realistically I wouldn't have gotten back to my dorm room until 10:00pm or later. And there was still another assignment I had to do for Monday…
So I decided to stay home, do my homework, and leave early Monday morning to be back in time for my 9:30am class. Those two hours were tough as I was extremely tired and I had to stop half way there because I was worried I was going to fall asleep. Never again (you can quote me on that one!).
Now I am typing up this WIAW at a ridiculous hour because I just got back from watching Divergent with a few of my friends. Yes, I already saw it last Saturday, but I rarely have time to do anything social because of all of my schoolwork so I decided that I would take a quick nap after my Accounting class… and gear up to watch the movie at 9:40pm. Yikes.
This is going to be a quick post today, and my posts will probably be staying sparse in the foreseeable future with more exams and group projects this week.
I'm linking up with Jenn at Peas and Crayons, sharing all of the food I made on Saturday and Sunday!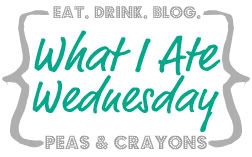 Breakfast
One day for breakfast I made my dad a super simple stack of pancakes. 1 1/2 bananas + 3 eggs + 1/4 tsp baking powder. The texture was surprisingly better than normal and not quite as eggy as when I've made them in the past. They will never be quite as perfect as James's though 😉
 Lunch
I had every intention of going to church this Sunday, and was even completely dressed and ready to head out. Then my new medication from my doctor kicked in and basically left me tied to the house for the rest of the day. Fun. It's kind of on-and-off with whether it sort of/doesn't work. Anyways, I felt awful because I was supposed to help my mom with the nursery that morning. To make up for it, I cooked her lunch that was ready when my dad and her got home.
First I made a simple homemade BBQ sauce. No crazy ingredients here!
Easy Homemade BBQ Sauce
Adapted from this recipe
Ingredients:
6 oz tomato paste
1/4 cup water
2 tbsp coconut sugar
2 tbsp honey
1 tbsp lemon juice
1 tbsp maple syrup
 2 tsp Worcestershire sauce
1 tsp prepared mustard
1 tsp garlic powder
1 tsp onion powder
1/4 tsp chili powder
salt and pepper to taste
Directions:
Combine all ingredients in a small pan and heat on the stove for a few minutes until ready to serve.
Then I forked a few sweet potatoes and microwaved them. While the potatoes were cooking I mixed a few cups of homemade shredded chicken and heated it up on the stove. To put it all together just slice open the sweet potatoes, fill with the BBQ chicken and voila!
Snacks
These below are homemade plantain chips that I made in the microwave. Super easy and I'll experiment a few more times before sharing the directions.
I already shared the recipe for my yummy Paleo Peppermint Patties. You need to make them STAT.
Over the weekend I experimented with one more dessert recipe. I made a pecan honey no-bake base, put a layer of homemade vegan caramel on top, and then a layer of homemade chocolate on top of that. It all tasted great but I think the caramel could be put to better use. More experimentation required! 🙂
And that sums up everything I made over the weekend! Off to get some ZZZs and I'll catch you all later!
————————————————————————————————————-
Questions for you:
Do you prefer group or single projects?
What is your go-to quick breakfast recipe?
Have you ever made your own condiments before?
Chocolate/caramel OR Chocolate/mint?