The weather has been so nice recently, very warm and sunny. It's perfect picture-taking weather. Over the winter I was forced to take most of my food pictures inside, and while it was fun to create a little DIY setup, nothing can beat natural light. I'm still getting back into the groove of outdoor shots since they differ greatly from inside ones, but I can still say that I'm glad to be back!
For today I thought there would be no better way to do a WIAW than to take pictures of some of the recipes I have been making from the Primal Life Kit (Affiliate links included). The sale ends in less than a week so I really encourage you to at least check out the goods. There are some fantastic cookbooks in there to be enjoyed by anyone, especially those who have to avoid gluten and dairy.
Breakfast
Starting the day here is a breakfast recipe straight from the PDF pages of Caveman Feast Ebook, written by George Bryant (of Civilized Caveman) and Abel James. Aside from a hilarious video on the ebook's main page where George dresses up like bacon (??!!), it also gives you a few recipe previews and a run-down of what you'll find inside. There are over 200 recipes and the ebook is valued at $47.
The recipe that I made from the ebook was the Coconut Pancakes with Raspberry Reduction. Pancakes are kind of my thing when it comes to breakfast. I just adore making them and really enjoying trying out new variations. This one of course features coconut flour and was very simple to make. In the beginning I started to make the raspberry reduction too, but got inspired and that ended up becoming an ice cream/smoothie. Whoops. Still, with a topping of sliced bananas and organic honey, I made two nice stacks for my mom and dad, who both gobbled them up within minutes. It was a success.
Lunch
Next up came lunch, which we actually ate out for on Easter so I don't really have a picture to share for the food specifically. It was at a Chinese Buffet and I ended up getting a plate full of shrimp cocktail, steamed clams, and crab legs. I do have a partial family picture from the day though.
Supper
For supper I knew that I had to make a recipe from the Chowstalker Community Cookbook.
I can't even begin to guess at how long it took me to pick which one to make though. I jumped back in forth literally between countless recipes for a good hour before picking. Originally I was going to make an egg-type casserole, but instead I picked a more brother-friendly recipe with ground beef. The recipe that I chose was Sweet Potato Chili from contributor Katja at Savory Lotus and once again my family loved it. We had to make some substituions with the spices, zucchini for the celery, and some cooking adjustments (for time sake and because we didn't have everything on hand), but it still turned out wonderful. One of the ingredients was broth which I was being stingy with and saving for school this week, so omitting that made the chili gloriously thick and there was a nice sweet potato bite in every spoonful.
Side
Finally, last but not least, I came up with a new recipe of my own. Inspired by the sweet potatoes in the chili recipe, I found my great grandmother's old cookbook, located a basic biscuit recipe, and then proceeded to adapt it to my liking. It turned out pretty well for just winging it (funny enough, it kind of had the faint taste of Ritz crackers…. weird). I'm sharing the tentative recipe now, but I will definitely be reworking it in the future and perfecting the sweet potato biscuit. It makes a great side for chili!
Grain-Free Sweet Potato Biscuits
Grain/Gluten/Wheat-Free, Dairy/Egg-Free, Vegan, Nut-Free Option, Paleo-Friendly, No Added Sugar
Makes 9 biscuits
Ingredients:
1/4 cup tapioca flour
3/4 cup almond flour (use sunflower seed flour for nut-free)
1/3 cup coconut flour
1 tbsp baking powder (sodium and corn-free)
1/2-1 tsp sea salt
1/4 cup coconut oil, hard (you can probably replace this with butter or palm shortening)
1 small sweet potato, baked and mashed (about 88 grams or 1/4 cup)
1/2 cup or more of light coconut milk
seasonings as desired (garlic powder and onion powder for savory; cinnamon, nutmeg and ginger for sweet)
Directions:
Preheat oven to 425 degrees and line a baking sheet with parchment paper.
In a medium bowl combine the first five dry ingredients and optional seasonings if desired.
Then cut in the coconut oil with a fork like you are making a pie crust. After cutting in the coconut oil you should be able to squeeze the mixture together into large crumbs.
After adding in the coconut oil mash in the sweet potato until completely combined.
For the last step mix in about 1/2 cup coconut milk and mix until combined. Add more if needed and let rest for about 5 minutes for the coconut flour to soak up the liquids.
Using a tablespoon scoop out a heaping spoonful of dough onto the parchment paper. I rolled mine in my hands for a more uniform shape but that is not required. Before placing the dough in the oven take your fingers and press down slightly on the balls of dough to flatten them out.
Bake for 20 minutes and check the biscuits. They should be starting to get a dark golden brown color around the edges. Add more time if necessary and remove to cool. If you cut into your biscuits and they are a little moist inside, place the cut side face up on a baking sheet and either broil or bake in the oven for a few more minutes to dry them out. Enjoy!
These have a very neutral flavor and would pair well with almost any topping. My parents went to the old standby of grass-fed butter before I suggested honey. It turns out that honey + butter was the golden ticket of toppings for these biscuits. A must try if you end up making the recipe.
Dessert
Dessert of course was more brownies. Specifically my coconut flour brownies which people (aka my mom and dad) cannot get enough of. They are just sweet enough and very satisfying. Many commenters have said that they haven't had much success with coconut flour in the past or are scared to try it out. These are the perfect first recipe to try with that bag of coconut flour you just have sitting in your closet!
Once again, I would encourage you to check out the Primal Life Kit. Alone the two cookbooks that I reviewed today would cost way more than the $39 price of the package. And alone these two cookbooks are certainly worth it. Take my word (and my pictures' 1000 words-worthiness) that this is a fantastic deal. In the end though, if you buy the kit, great! (And thanks in advance if you do). However, even if you don't buy the kit, you should take a look at the sales page to get some ideas for some great single cookbook purchases. As an accounting major I'm required to tell you that the first option is more financially sound, but it's ultimately up to you 😉
Thanks to Paleo Plan for creating the awesome package, and to Jenn at Peas and Crayons for letting me share my family's eats and recipe reviews for this week's WIAW! Don't forget to check out all of the other bloggers' posts for today.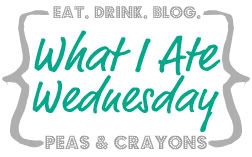 —————————————————————————————————————————————–
Questions for you:
 How did you celebrate Easter?
What do you like to add to your chili to shake things up? Sweet potatoes? Chocolate? Peanut butter? (I have yet to try the last two but I've heard they are very good!).
Check out the Primal Life Kit sales page and tell me one cookbook/product that you are interested in. I'm looking to do more reviews but am slightly overwhelmed by how many there are choose from! I need YOUR help 🙂