Happy Wednesday everyone! I have some exciting things to share in my next few posts, so get ready 🙂 In the meantime, today I am writing up a quick recap from this past weekend.
For those of you who are purse lovers, you may be familiar with the brand name Vera Bradley. Actually, even if you aren't purse lovers (me included), you'll have probably heard of the company before. They are one of the most popular purse, luggage and accessory companies in the U.S. right now, especially for college girls like myself. You really can't go more than a few minutes without seeing someone toting around a Vera Bradley quilted purse, book bag, messenger bag, umbrella, etc. They are known for their bold patterns and somewhat expensive, yet high quality lines.
Once a year Vera Bradley holds an Outlet Sale in Fort Wayne, Indiana where they hold a huge discount sale in a large building. Last year over 60,000 people attended the multi-day event. My mom unfortunately didn't find out about the sale until after it took place last year, but this year we made sure to make plans to attend.
So, this Friday my mom drove up to my school, dropped off some food for me to store in my fridge for the coming week, and then together we headed over to Indiana on a long drive. We spent the night at a fancy Hilton Hotel (which we got a huge discount on with AAA and a Vera Bradley coupon) where the room was complete with microwave and fridge.
Also it had a ridiculously large bathroom which I wish I could have stuffed in my overnight bag and transported back to my college dorm room.
That night I had one of the best sleeps in a long time. I watched questionable television shows (Dallas anyone?) as I drifted off. Saturday morning we slept in until about 7:00am and after getting ready and eating breakfast, headed out to the sale.
When we got there the line reached almost to the back portion of the parking lot. It was huge.
I brought a magazine with me to read, but I ended up not needing it. Within minutes my stomach began hurting and I had to borrow my mom's keys to drive to the nearest gas station. Yes, my medication decided to pick that moment to act up again. Life sucks, but what can you do?
When I got back less than 20 minutes later, the line had already progressed a lot and my mom was inside.
This of course made it awkward for me seeing as how there was still a line and all of the women in it were eyeing me suspiciously as a "line cutter" as I walked to the front to find my mom. I decided to hold her on the phone, asking loudly where EXACTLY she was, saying "Are you by the large tv?"… "Where? I don't see you!" until I finally scooted my way inside. Crisis averted.
Once inside we headed straight into the sale. They handed us each big pink garbage bags and set us free to roam. HOLY COW.
There were rows upon rows of tables piled sky high with every patterned bag and accessory imaginable. Here is a map for reference purposes, although it got pretty crumbled from so much use:
Starting at the beginning, we went over every spot several times probably. I read a tip online beforehand about carrying items with you in garbage bags and putting them back later if you decided not to keep them. Apparently patterns run out fast and it's better to be safe rather than sorry. It turned out to be a good tip because as we returned some items to the random bins on every aisle there were woman there scooping them right back up again.
Everyone was incredibly friendly though, despite how packed the place got. My mom and I traversed around for a few hours before making our final picks and going to checkout. On the way to the checkout we passed a large Vera Bradley quilt on the wall where some others were getting pictures. I offered to take a photo of a girl and her mom in exchange for one of our own.
The final checkouts reminded me of the inside lines for rides at Disney World. Organized but crazy. There were so many people and they were buying SO many things! Seriously, one woman had an entire garbage bag to herself and must have pulled out close to a thousand dollars worth of stuff. Most of the things were on sale for over 50% off that day so she was really buying almost two thousand dollars worth, but still, that's a bunch. The max was $3,500 per person though and I don't think I saw anyone who managed to buy quite that much.
Once we made it out of the sale and hit the road again, it was time for lunch. We decided to stop by Texas Roadhouse as they have baked sweet potatoes on the menu that I have been getting whenever we go out to eat. Unfortunately I didn't take any pictures as my phone was dead from snapping shots at the sale. Just imagine an 8oz steak and the largest sweet potato you have ever seen.
Then after filling our tummies began our drive back. We hit a snag when my mom dropped me off at my car so I could move it to a closer parking spot at school. She was supposed to follow me back but got stuck behind a few other cars and so began our scavenger hunt to find each other for a good half an hour. I eventually did find her and drove behind her car, waving my hands to no avail in an attempt to grab her attention. We lost each other again and I finally decided to just park my car and walk back to my dorm. Of course my cellphone was still in her car so communication was futile.
Needless to say we eventually found each other, and after a little grocery shopping to set me up for the week, we said our goodbyes.
Funny enough, I don't actually have any pictures of any of the things we purchased. It ended up being a total of $100 or so for both of us combine though (which compared to the thousands mentioned above, that's pretty reasonable I'd say 😉 ). I will tell you that I bought a water bottle holder, a wallet, some keychains, and a present for a friend. My mom bought a bag or two, some lunchboxes, and a water bottle holder I think. Even with the huge sales, I still couldn't justify spending $25 on a tote.
Instead I went on ebay that following Sunday and bought a used Vera Bradley bag for less than $20. Hah. I'm currently shopping for a new book bag for next year too as mine is getting a little worse for wear. It's a Vera Bradley messenger bag in… Ellie Blue.
I'll update this post when I get a snapshot of all of our Vera Bradley purchases, and I'll also post the photo in my next blog post so you won't miss it. And I'll probably have to correct myself for whatever I've forgotten. And my mom saved the day by e-mailing me a picture of our loot. I guess she had been texting her friends pictures of everything we bought already 🙂
Me: Blue/Flower water bottle holder (Actually a baby bottle holder, but it was too cute to pass up), the purple wallet thing, four key chains, and the red wallet for my friend (I wish I had a small iPhone like her. It seems the best stuff only fits iPhones 🙁 ).
Mom: Yellow/Black/White lunchbox and matching water bottle holder, purple flowery lunchbox for her friend and a matching purple wallet for herself to take while walking, and a large tote/purse in the same pattern as my messenger bag above.
While not everything went perfectly, it was such a nice break from my usual hectic weekend and it was nice to be away from school and the busyness that comes with only a few weeks left to go!
Thanks Jenn for hosting WIAW again this week. Sorry for having to skimp on pictures… Oh, but to complete the day, I probably ended it with chicken for supper. So predictable, am I right?!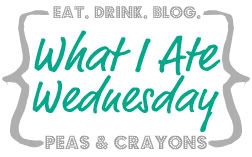 Questions for you:
Have you ever heard/bought Vera Bradley before?
What is your favorite brand?
Do you ever go to outlet/discount sales?
Do you like staying in hotels? Any rituals? I personally cannot sleep under the sheets and always have to bring my own blanket and pillow. Haha.