I come to you, reaching out of the depths of mountains of school papers and group projects. I literally just opened/closed over 15 office documents in the past 48 hours and about half as many excel spreadsheets. Also, to add even further to the stress that is my final exams next week, I currently am in the interviewing process of three…. THREE internships. I feel so blessed, but at the same time, I'd rather just apply, interview and be accepted at one. However, beggars can't be choosers.
Yesterday I had an in-person interview where I had to drive 2 hours south for literally 10 minutes of talking. Then I drove 2 hours back. Not before stopping at a Whole Foods though which was just minutes away. There were actually two WF markets to choose from. Jealous.
I went to the salad bar and got a nice big box. There was kale salad on top, marinated mushrooms everywhere, and both grilled chicken and grilled pineapple beneath. I thought that the cold food would bother me a little (especially with the mushrooms), but I ended up loving all of it!
And because I am so nice, I went around and found recipes for all of the food so that you can make the recipes at home and enjoy them too 🙂
I am going to make this recipe as soon as I can find some good, fresh Kale and I encourage you to do the same.
This one isn't exact, but pretty close and just as delicious I think 🙂
I also had the mushrooms warmed up with some crock pot beef for breakfast this morning and they were still super tasty.
This one is basic, but I like how they only soak it in salt water. No celery/tomato/corn/gluten!
I also purchased a few other items while at Whole Foods.
First was digestive enzymes and ginger pills. Both are supposed to help with digestion and bloating. I notice a slight difference when taking them. (Update as well: Another doctor's appointment this Saturday so cross your fingers for me).
Next up I bought some sea salt. It's great that Whole Foods doesn't use a ton of salt on their salad bar items, but I knew from past experience that I would need to add a little so I went to the bulk pins and purchased some pink sea salt to sprinkle on my food.
I also bought two packs of gum while there. I haven't chewed gum in probably three or four years so this was kind of a weird purchase for me. I stopped chewing gum because of the artificial sweeteners mainly so I like that this gum is made with natural sweeteners and no weird ingredients. It really helps me concentrate while driving too and I went through about 4 pieces in a (successful) attempt to stay awake on my long drive back.
The drive was made even longer actually by an accident. When I passed by it looked like one car had rear-ended the other, and two ambulances were already on-scene so I think everyone was okay.
I will be notified if I need to come in for a secon interview sometime this week. For the second intership I had a phone interview last week and should be contacted shortly as well (after I fill out a second employment application). The third internship is still in the beginning stages, but that is the one I probably want most because it is so close to home and I know someone who works there.
**Pardon the interruption. I was just interrupted in the middle of this post by another fire alarm. Suspiciously our hall didn't smell like burnt popcorn until AFTER we came back in from the fire alarm. It's a conspiracy!**
And now it's seriously too late for me to be up. Goodnight, sleep tight, and pleasant dreams to you.
I'm linking up this post with Jenn at Peas and Crayons for What I Ate Wednesday (but really Monday…. shh. 😉 ). Make sure after you leave a comment below to check out the rest of the blogger contributions!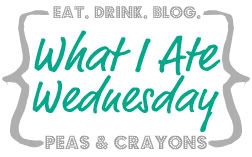 —————————————————————————————————————————————
Questions for you:
Do you have to travel a long ways to go shopping at your favorite stores or are they close by?
What is your favorite thing to get on the Whole Foods bar?
Have you ever recreated a restaurant recipe at home?
Do you chew gum? What kind?