Fire alarms + Exams = Madison REALLY needs Spring Break right now.
Last night at 12:30-ish we had another fire alarm go off, and once again I was already fast asleep in bed. This time I was too out of it to remember to bring my scarf or hat and I suffered the consequences. My roommates also took it upon themselves to keep me awake while we waited for the 20 minutes to return to our nice, warm dorm. I've said this before- I can fall asleep anywhere. And I do mean anywhere. When my friend looked over and shouted, "Madison, are you falling asleep?" causing five sets of eyes to turn towards me, I couldn't deny it. I was nodding off while standing up.
Then for the second part of that evil equation, I have two exams tomorrow in Supply Chain Management and OR. I'm feeling "eh" about both of them, so this post will be very quick. Pictures, words and I'm out of here, off to finish my flashcards and get (hopefully) a fire-free sleep.
Today I'm going to try and kind of follow the rules for What I ate Wednesday for once. Except I didn't get a chance to take pictures of most of the main meals from my cooking weekend, just the good stuff. So I still sort of failed…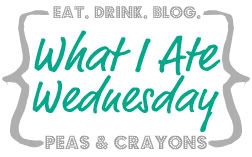 Come Saturday morning I discovered that not only were we out of coconut flour and almond flour at home, but also yogurt and bananas. BANANAS? That is basically my #1 favored ingredient for making breakfasts. With basically nothing I was able to scrounge around for some random gluten-free flours and came up with a pretty passable pancake recipe. I added blueberries to the batter and then to make them even more blue-rific I also added a blueberry maple syrup sauce to the top. They weren't as fluffy as I would have liked because we were also out of baking soda (how do these people survive without me?). I'm going to do some future experiments before posting any official recipe.
I'm embarrassed to share this next picture. Not because it's hideous. On the contrary, I think they sound amazing. It's because it's another….
 PANCAKE
On Saturday morning my brother had basketball shooting practice so I offered to make him breakfast before he left. Usually we make his pancakes with chocolate chips… However, you guessed it! We were once again out of an essential ingredient. Instead I found some peppermint Hershey kisses, broke them up into tiny bits and BAM. Instant success.
I did make one non-pancake recipe for WIAW and that would be this Pina Colada Smoothie. It is is so incredibly easy, healthy and fun to make. Plus it's delicious. I don't care if we are getting another winter storm soon, smoothies are good in any weather.
And that concludes my semi-following-the-rules WIAW for the week. Thank you to Jenn once again for hosting this link-up party and don't forget to comment on the other bloggers who joined in!
I'm not sure if you will hear from me again before next Wednesday because my schedule also includes more exams next week too. Three weeks of straight exams is just way too much if you ask me. Unfortunately my teachers don't really care what I think. Oh well! 😉
————————————————————————————————————————————-
Questions for you:
Tell me your equation for the week! _______ + _______ = how do you feel?
What is your favorite addition to pancakes?
Have you started drinking smoothies yet? Did you ever stop? Haha.
What is the first thing that you do when Spring comes around? Take a nice walk outside and soak up the glorious sun!